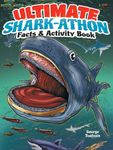 Many years ago, New Smyrna Beach was known by the moniker WSBB, or
World's Safest Bathing Beach. Even today, there is an AM radio station using
these call letters.
Over time, the marketing slogan has gone by the wayside, replaced by something a
bit more ominous sounding, the Shark Bite Capital of the World. It is ominous
sounding but the odds of receiving a shark bite are miniscule at best. As WESH
reported, in 2021 there were sixteen shark bites in waters at Volusia County. These
tie for the second highest number of bites in the last twenty years. In fact, the
International Shark Attack File reports only 137 bites throughout the world in
2021.  Despite being the intruder, you are safe in the ocean.
Experts reply that this locally high number is not due to an increase in shark population but rather an increase in the number of humans visiting beaches. Typically, these bites are from blacktip sharks, a species known to frequent the shallow waters where they may be feeding on baitfish or perhaps giving birth. The majority of bites occurr near Ponce Inlet, an area known to have a large quantity of baitfish. This area is also popular with surfers so man/nature interaction is to be expected.
Despite some locals not wanting to continue the seemingly negative image, a group of high school students, along with City of New Smyrna Beach elected officials have created a new public art initiative featuring whimsical version of these often feared predators.
In May 2019, the Youth Council Task Force presented the idea to the city
commission of painted sharks, along the lines of what other communities have
done. Logistical issues, including design and cost of the sharks, where they would
be placed—public lands or at private businesses, and later COVID-19 delayed, but
could not stop, this initiative.
With the assistance of Rick Hardy, a taxidermist at Unique Species, Inc., the
project moved forward. Hardy crafted five shark sculptures, each seven feet long,
two feet tall, and one foot wide. The Youth Council selected local artists to give
these sculptures their own painted interpretation. These individual works of art
were then installed at city owned facilities throughout town.
Cathy Berse
City Marina 201 N. Riverside Drive
Cathy Berse is well known in local art circles, having lived in the area for more
than thirty years. Her goal is to show that New Smyrna Beach is about more than
being the shark bite capital of the world. Her work is an attempt to bridge the
mainland and beachside, with one side of her shark representing each.
Eliza Midgett
Brannon Center 105 S. Riverside Drive
Ms. Midgett states that color is a part of who she is. Her shark inspiration came
from growing up at the beach. A News-Journal article quoted her, "Images of sand
dunes and the paths through them etched indelibly into my memory." Her
contribution "Sam the Shark," features bright colors and nods to New Smyrna
Beach such as a crab, the Ponce Inlet Lighthouse, and condominiums.
Shyriaka Morris
Live Oak Cultural Center 1050 Live Oak Street
Shy, as she is often called, is a fourth generation New Smyrna Beach resident. She
and her daughter worked on the design together. "We decided to paint happy kids
enjoying time at New Smyrna Beach swimming on their floats in the ocean. We
also included a landscape so viewers would know it's the beach and not a pool."
Morris is glad to see public art projects like this and hopes the city continues
offering artists these type opportunities.
Randal Preston
Alonzo "Babe" James Community Center 201 N. Myrtle Avenue
Ms. Preston, who is a teacher at Indian River Elementary School, named her shark
"Ponce." The inspiration for her shark came from "all aspects of my life,"
including her family and teaching experiences. According to Ms. Preston, art "can
influence, entertain, and educate your audience, and most of the time without even
using any words."
Margo Wenzel
Development Services Building 214 Sams Avenue
While many consider the food scene in New Smyrna Beach to be a highlight, Ms.
Wenzel uses music as her theme. "I was inspired by NSB's offerings of music for
my shark theme. There is live music in town at the farmer's market, Old Fort Park,
Riverside Park, the various street fair events, countless bars and restaurants, and
The HUB on Canal."
You may take a tour of these amazing pieces of art with my YouTube video. Please consider subscribing to my channel to enjoy more of the interesting places I visit. I hope to be posting to YouTube more frequently.
Want to learn about sharks? Read the new book Why Sharks Matter: A Deep Dive with the World's Most Misunderstood Predator. 
Have a child in your life interested in the predators of the deep?                                                                  Take a look at the Ultimate Book of Sharks from National Geographic Kids.

Sources:
Daytona Beach News Journal. January 19, 2022.
Hometown News. January 14, 2022.
This post may contain affiliate links. If you click these links and make a
purchase, I may receive a small commission. This commission does not affect
any price that you pay. All views and opinions provided are my own and are
never influenced by affiliate programs or sponsors providing products.